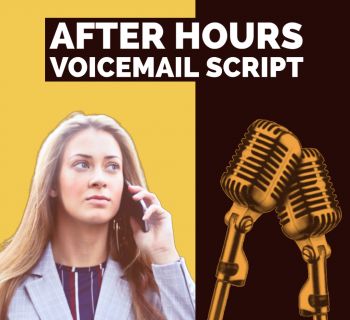 In the land of nod
Yet another unforeseen result from the Covid 19 pandemic is the need to update the companies After Hours Voicemail Script.
To a rampant virus, the time has no relevance. Compare that to the human impact caused by shut-downs, red-zones, quarantine measures, border closures, and working or schooling from home.
In fact, you probably need several versions of your After Hours Voicemail Script to cover overnight calls, public holidays, lockdowns, and so on.
Wake up to the new
When Bob Dylan sang "The times they are a-changing" he only glimpsed the result of unrestrained human enterprise and endeavor.
We can all remember the praises sung for globalization. It was at one time the buzzword of booming world economic activity.
Across our shrinking planet, borders evaporated. Visas vanished and passports became passe!
Bigger and faster airliners signaled an end to the romance of travel. The Atlantic shrunk to lake-size. It was "London for lunch and back in NY for cocktails".
As for any self-respecting transmittable disease, globalization was the ticket to world domination. It was no great surprise when things went awry.
Being better prepared
Who is to blame for Covid 19? It's too easy to point the finger at anyone or anything as the origin of this the latest in a line of "new" viruses.
The first culprits were the fleas and the rats. Then accusations were leveled at the birds and the swine. Now the bats are adding to their Hendra virus reputation.
Unfortunately, there will be more threats from as yet unknown viruses. Let's hope the world does a better job controlling the next pandemic.
It's a case of learning from the 2020/21 experience and taking the necessary steps to prepare for the inevitable.
This brings us to the state of your preparedness regarding your company telephone messages. Is your Welcome Greeting current? Is the wording Covid relevant? What about getting your On Hold Program up to speed?
As mentioned earlier you'll definitely need several versions of The After Hours Voicemail Script.
A few clicks are all it takes and Media Group, the business audio specialists will soon sort out all your telephone messaging. www.mediagoup.com.au
Tags: Business Voicemail Greeting, Free Voicemail Greetings For Business, Phone Answering Script Samples, Hvac Voicemail Greeting, Voicemail Greeting Do Not Leave A Message, Company-Wide Voicemail Greeting, Answering Machine Greetings For Home, Call Greeting Scripts
Related Articles
---
Comments