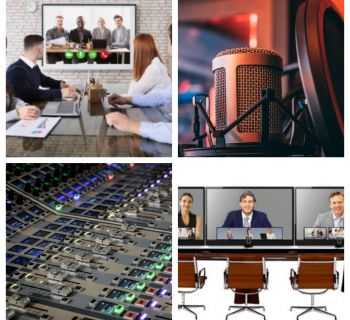 Get heard. Be seen.
The A/V business has come a long way since the 1970's. Back then the UK company Audio Sonic pioneered the industry's development "down under". In those years a rear-screen audio/visual presentation was viewed with intrigue.
Audiences marvelled as the audio synchronised imagery appeared without a trace of the hardware driving the show. Meanwhile behind the screen banks of clunky Kodak projectors clattered through carousel cartridges loaded with Ektachrome slides.
Today Audio Visual Solutions For Business are digitally based. Infinitely superior in appearance, versatility and portability.
So many ways to get noticed.
Static displays in public places and throughout an organisation present vibrant digital signage designed to excite customer interest and enhance the surroundings.
Even a standard internet connection will deliver IPTV shows and movies.
At trade events and conferences Audio-Visual presentations entertain and inform audiences in novel and memorable ways.
As reading becomes more of a chore to modern tech-savvy consumers, company websites resort to video presentations to spoon feed prospects with all the benefits of new products and services.
However the ease of creating stunning imagery using a phone camera and laptop is often undermined by crappy audio.
There's no doubt Covid-19 has helped us become accustomed to fuzzy pictures and un-synched sound via "Skype" and "Zoom". But listeners still cringe at poorly written scripts recorded by amateur voice talent. It doesn't have to be this way.
Pro quality audio is just a click away.
Creating quality Audio Visual Solutions For Business is a no-brainer. When you wish to produce A/V material to showcase your company's products and services take the fast road to success with Media Group, the business audio specialists.
You can still save production costs by shooting the visuals on your own camera. But you can make the giant leap to a fully slick A/V by having Media Group produce the sound track.
You'll get to choose the right voice to represent your business from their range of professional Voice Over Artists. Plus you'll save a bundle by selecting tracks to accompany the voice from the Media Group Library of Royalty Free music.
Look good and sound great here at www.mediagroup.com.au
Tags: Audio Visual Company, Audio Visual Companies, Audio Visual Companies Australia, Pure Audio Visual, Audio Visual Suppliers, Audio Visual Technologies, Av Solutions, Av Companies Near Me
---
Comments