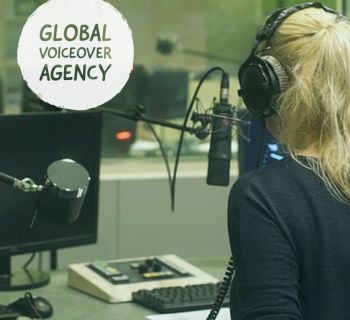 Finding your voice
There's a never-ending challenge put to producers of radio, TV, cinema and internet audio. It's the task of finding the best Voice Over artist for the job.
The voice being sought has to satisfy strict criteria of qualification based on performance, style, budget and of course availability.
The temptation is to fall back on the "same old same old". It's only natural for any Producer to choose a voice artist they have worked with on previous jobs. They may have an established rapport, but will that talent be the best choice for this job?
Answering the question without the bias of familiarity means looking for the best performance and not just an "Oh it'll do" attitude. This is especially true if the particular voice over is going to be used across various markets around the world.
Producers need to go the extra mile. That means getting expert assistance and a wider choice of voice talent from the leading Global Voice-over Agency Australia can provide.
Just a click away
We can all agree in the quest to create high-quality audio, the kind that boosts sales and wins awards, the starting point is choosing the right voice talent.
Sure it sounds simple, and yes the actual process of auditioning the range of voices available is as easy as "click-click". That may be a "tap tap" on your device.
However, even after listening to existing recordings and a Producer has found a potential winner, it is not always possible to be confident the voice talent will be able to deliver the read required.
The timbre of the voice may be correct, but the tone of voice might be dead wrong. So it is a good idea to have the preferred talent to make a demonstration recording by reading an extract of the actual script.
This "demo" will be made available online as a free service. There are a few provisions, the main one being the script(s) to be recorded should exceed a minute in length.
Nobody beats a winner
As the most innovative Global Voice-over Agency Australia has to offer, here is a chance to solve all your audio requirements.
With a tremendous range of professional male and female voice over talent, you're sure to find a winner.
The search process has been simplified as much as possible with all voices classified and categorised by gender, age group, style, and country.
Whether you need a voiceover from Australia, New Zealand, and the Asia Pacific region. Or a voice from the UK, Europe, and North America you'll find what you are looking for at www.mediagroup.com.au
Tags: Voiceover Webinar, Voice Acting Events, Voiceover Events, Gvaa Demos, Voice Over Agencies London, Voice Over Representation, Celebrity Voice Overs For Hire, Talent Agencies, Voice Over Organizations, Voice Over Website Templatem, Global Voice Acting, Global Voices, Global Voice Acting Academy, Global Voice Casting, Global Voice Over
---
Comments