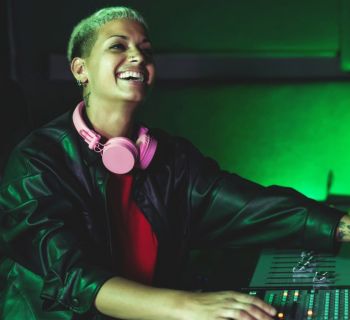 How To Get Into Podcast Production: Find Your Audience and Your Niche with Media Group
The foundation of 'How To Get Into Podcast Production' is identifying a specific audience and goal. Where do your interests lie? Finding your audience's sweet spot is as simple as figuring out what they care about most, be it true crime mysteries, wellness advice, business advice, or passionate chats.
Write Intriguing Material
The meat of your podcast is the information you provide. Produce shows that will interest, educate, and amuse your listeners. Ensure your episodes flow smoothly by planning them carefully, making outlines, and collecting necessary resources. Put yourself into your writing; readers will appreciate the genuine effort.
Pick the Correct Layout
There are many kinds of podcasts, including interviews, stories, panels, or just one person talking. Pick a presentation style that works with your prepared material and keeps people interested. Try many approaches until you find one that works well with your tone.
Spend Money on Good Tools
A professional recording studio is unnecessary, but high-quality recording gear is essential. A high-quality microphone, headphones, and recording software will enhance your podcast's sound. Maintaining an audience requires crystal-clear sound.
Make Episodes and Publish Them
The recording process is where your episodes will truly come to life. Go somewhere peaceful where you won't be interrupted, and let your imagination run wild. Start editing just after you're done recording. Remove boring or repetitive sections, and spice things up with music or sound effects.
Adopt Skillful Condensation
In the editing process, your rough recording will become a polished masterpiece. Remove any unnecessary silence, blunders, or ambient sounds. Use music to set the tone and transitions to link scenes together seamlessly. Keep in mind that the devil is in the specifics.
Design a Catchy Cover
People's first impressions of your podcast will be based on your chosen cover art. Make a cover that captures the spirit of your show. Incorporate eye-catching hues, legible typefaces, and relevant visuals into your presentation.
Choose a Solid Host Server
You need a solid podcast hosting service to get your content out there. Podcasts can be uploaded, distributed, and analyzed with the help of sites like Libsyn, Podbean, and Anchor. Pick one that is practical and affordable for you.
Release and advertise
When each episode is complete, you can now release it. Don't be shy about distributing your podcast on many services like Apple, Spotify, and Google Podcasts. Promote your podcast through social media, your website, and word of mouth to attract listeners.
Regularity Is Crucial
Podcasting relies heavily on consistency. Choose a regular interval and commit to it, whether once a week, twice a month, or once a quarter.
Check and adjust
The hosting platform's analytics should not be ignored. Learn about your listeners' demographics, episode performance, and comments.
Learning Should Never Cease
Making podcasts is a dynamic method. 'How To Get Into Podcast Production' we know at Media Group, is more than just talking into a recorder; it's about creating stories that touch listeners and move them to action. We offer turnkey services beginning with brainstorming and continuing through recording, editing, and dissemination.
Tags: What Is A Podcast Producer?, How Much Do Podcast Producers Make?, Do Podcast Producers Get Paid?, What Do You Need To Be A Podcast Producer?, What Qualifications Do You Need To Be A Podcaster?
---
Comments