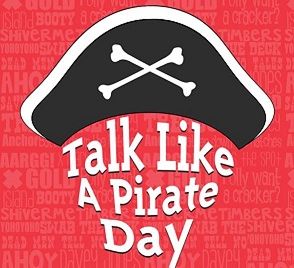 IT'S TALK LIKE A PIRATE DAY!
Ahoy there me hearties!
Not only is this day a once a year opportunity for the Voice Over Artists at Media Group to hone their Pirate lingo and play Cap'n Barbosa for a day but it is in fact the official fundraising and awareness day of childhood cancer in Australia for Childhood Cancer Support.
So me hearties, do yer bit for the little'ens.
Spread a little cheer around along with a splash of ya treasure.
Tags: Talk Like A Pirate Voiceovers Voice Artists Character Reads Media Group Pirates
---
Comments