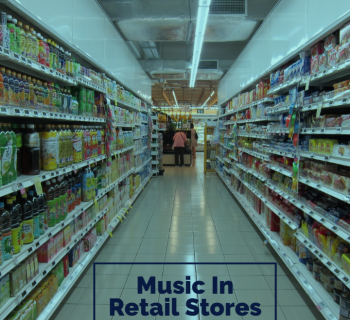 Some retailers just play it by ear
A good many people still go into retail with little or no formal training. It's always been that way. Learning the trade by doing it. An informal apprenticeship. Starting out stacking shelves, tidying racks and sweeping the store.
The lucky ones today might study a Certificate course in high school. At least they have a head start when they join the workforce, although some "die-hards" might argue they have to be retrained to unlearn whatever they absorbed in their course!
One important area that isn't covered by either of these methods concerns using music in-instore. There needs to be a subject possibly titled Music In Retail Stores Guide For Beginners.
The science of music in a selling situation
There is no end to the surveys and studies conducted to determine the impact of music on the human psyche. At universities and research, organisations learned academics all over the world have written volumes on how music and mood are related.
Credit for the first commercial foray into transmitting mood music must be given to Major General George O. Squier of the US Signal Corps. George developed "Muzak" a name he invented paying homage to "Kodak".
Those studying Music In Retail Stores Guide For Beginners would be exposed to the theories developed by the advocates of Muzak's magic in fostering workers productivity or influencing shoppers to open their wallets.
Maximise the power of music with messages
Media Group, the business audio specialists have extended the principles behind the music in a retail or office situation by incorporating specific messages.
Now with help from the audio experts at Media Group, you can use music to help create the right ambiance your place of business. Plus you can add short messages targeted to promote seasonal sales, end of line clearances and in-store events.
Media Group has a vast library of Royalty Free Music covering all genres from pop and rock to country, jazz and more. Working closely together you'll be able to create a playlist that appeals to your customer profile.
As a bonus there is no chance of offending anybody with profanity or risqué lyrics. Plus Royalty Free Music music from Media Group does not make you liable to pay any annual licence fees to APRA or PPCA.
Now that just has to be music to your ears.
Find out more now. Go to www.mediagroup.com.au
Tags: Music In Retail Stores Guide, Music For Retail Stores Playlist, Best Music For Shopping, How To Choose The Right Music For Your Retail Store
---
Comments