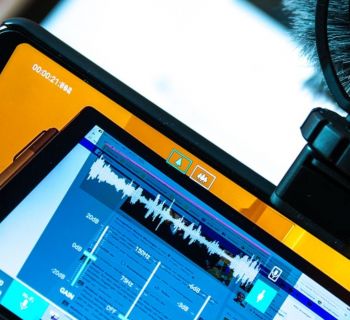 The power in the palm of your hand
App by App the humble telephone is surely headed for world domination. The once great names of empire building, Khan and Hitler, rapidly fade to insignificance compared to Apple, Samsung and the like.
Aside from those mobile marauders, even the basic fixed unit is developing power way beyond A.G Bell's original concept for communication.
At home and more obviously in business, telephone audio recordings have become de rigueur at all modern offices. What started as an on-hold facility using a few bars of repetitive computer-generated music is now an industry of its own standing.
The VoIP proliferation of pre-recorded phone messages
Today's business telephone systems come equipped with the technology known as Voice Over Internet Protocol (VoIP). It's a giant leap ahead from the days when PABX systems were introduced.
When we first marveled at the facilities available with a "private automatic branch exchange" or PABX, the shock was tempered knowing a human operator was still required at the heart of the system.
Now the human element is further removed. VoIP multi-tiered switching allows call transfers from one area of your business to another person or department using only the phone keypad. The caller hears only the telephone audio recordings relevant to direct them to their required destination.
Phone messages project your business image
When you work with Media Group, the business audio specialists you can be confident the messages on your phone will enhance your business image and demonstrate how highly your company regards its clients.
Media Group owns and operates state-of-the-art recording studios on the Queensland Gold Coast. Their team of experienced voice artists, scriptwriters, studio engineers, and producers create high-quality telephone audio for a wide variety of functions including welcome messages, on-hold programmes, after hours' messages and interactive voice responses.
Check the quality and audition voice talent online
Go to www.mediagroup.com.au to listen to samples of the telephone audio produced by Media Group. Check out the variety of male and female professional voice over artistsand discover the wide range of Royalty Free Music available.
Whatever audio you need on your telephone Media Group has you covered. Send for a free demo On Hold Message created especially for your business and judge the production quality. You will be impressed. You'll be even more impressed with the competitive prices for a pay by the month program or an outright purchase.
Tags: Telephone Audio Recording Products, How To Record Phone Calls, How To Record An Audio Story On Your Phone
---
Comments