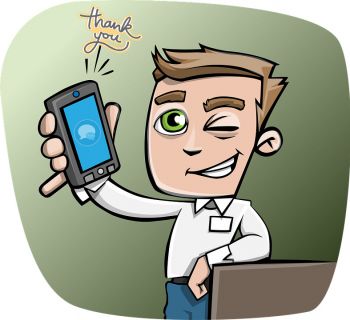 Phone messages need careful monitoring.
Phone Messages For Business can be divided into two categories; First, those that help reduce callers hanging-up and secondly, all the others.
Unfortunately, the second category seems to outnumber the first by a considerable margin. This is primarily due to the prevalence of "penny-pinching". Every business should keep an eye on cost control, but penny-pinching results in the exact opposite.
What a caller hears in a company's telephone messages can greatly impact their perception of the business.
You should always aim to present your business with the best possible image. This applies equally to the advertising and signage, the look of the company vehicles or the company dress code. It also means making sure you sound as good as possible.
Make a good impression on the ear!
When the phone rings, whether it's a new customer or an existing client, they expect to be greeted in a professional manner. For those busy times when staff are unable to answer the phone in person, you need a recorded greeting that will reinforce the professionalism of your operations.
Media Group, the business audio specialists lead the way in creating the best quality Phone Messages For Business.
The right message every time
Phone Messages have to fulfill various roles including greeting a caller and quickly directing them to a specific destination using an Auto Attendant or Interactive Voice Response (IVR).
When all lines are busy or a delay is encountered the On Hold Messages program needs to entertain the caller and keep them from hanging up.
When everyone has gone home for the day the After Hours Message can help reduce caller frustration and provide a facility for the caller to leave their contact details and request a callback.
Getting the right phone messages for any business is simple. Start going online to the Media Group website to audition the male or female voice professionals you would like to represent your organisation.
When you have made a choice click on the button at the top of the page and arrange an online quote. Then simply follow the prompts at www.mediagroup.com.au
Tags: Best Voicemail Greetings For Your Business, Professional Voicemail Greetings
Related Articles
---
Comments