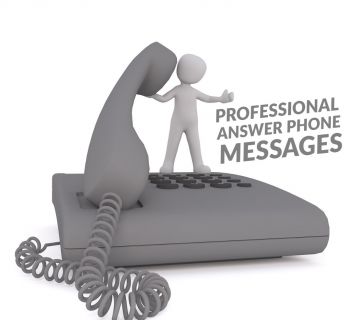 Have a professional voice answer your business phone
Just like meeting someone, the first impression your business makes on a caller is the one that lasts. If the first contact is over the telephone you have the opportunity to project your very best image with Professional Answer Phone Messages.
When it comes to recording a message on the phone, everyone knows it's possible to "do-it-yourself"! But it's a bit like trying to be your own hairdresser. The results are always far from what you had originally planned.
Try it. No not cutting your hair in front of the mirror! But record a welcome message on the company telephone. Then pretend you're a client and call the number. You'll be shocked at how ordinary the message sounds. Don't be dismayed because every amateur has similar results.
Choose the voice you consider best for your company image
The tone and mood of the voice you choose conveys a lasting image to your customers, suppliers and employees. It creates a picture in the listeners mind and delivers a host of subconscious emotions.
Choose wisely. Begin by listening to a range of experienced voice artists. A good place to start is Media Group, the business audio specialists.
Go online to the Media Group website and begin auditioning the male and female voice artists on their books. Then arrange to a have Media Group write and record a free sample using your preferred voice.
You'll easily recognise the advantages of having Professional Answer Phone Messages.
It all happens at the click of a mouse or tap on a screen
Ask Media Group for a free quote for the telephone messages your company requires.
Today's telephone systems are equipped to store and replay Welcome Messages, After Hours Messages, Auto Attendant Messages aka Interactive Voice Responses (IVR) and On Hold Message programmes that combine music and announcements.
Audition the voice talent online, arrange a quote and get a free sample recorded by your chosen voice artist(s). Bure you're telephone messages are projecting the company image you desire. Go to www.mediagroup.com.au
Tags: Professional Voicemail Greetings, Professional Voicemail Message Examples
Related Articles
---
Comments