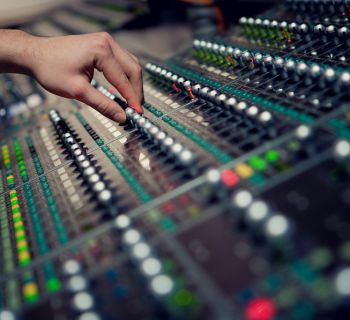 Choose the right voice over for any market
To succeed in a foreign market have you come to grips with the language. It's not rocket science, its common sense. You might have a truly remarkable product or service to promote, but if nobody understands your advertising and communications you might as well pack up and go home.
Those who speak English often get a giggle at the "foreign" TV commercials on the internet. In a country where English is not the first language, it's your ads that could be the butt of the joke.
When you need to choose an International Voice Over, head straight to Media Group, the business audio specialists.
Go online to audition professional voice talent
Stay right where you are. You can find the male or female voice you require without leaving the office. Simply head to the media Group website where you'll be instantly able to replay sample recordings made by professional voice over talent from around the world.
On the Media Group website, home page click on the heading "Voice Overs". It's just under the microphone icon.
You will land on the page titled Voice Artists. Locate the list of countries under the button second from the right. Scroll down the list and choose a country.
In addition to the English speaking countries of Australia, New Zealand, the United Kingdom, and the USA the list includes China, Germany, Spain, France Japan, and Rep. of Korea.
You can refine your search using the other buttons to choose gender and age group. Plus you can choose the type of sample read you wish to hear; Radio, TV, corporate.
Media Group will search the world to locate the voice
If you wish to listen to more samples read by an International Voice Over from a country, not on the list, Media Group has you covered. Go to the top of the page and click on the button labelled "Contact Us".
Follow the prompts and complete a few details and Media Group will quickly respond to your request.
When you have listened to the available samples and chosen a suitable voice artist, click on the button "free online quote" to be sure your choice is within your budget.
Media Group will also advise of your chosen voice talent's availability so you can organise your production schedule with confidence.
If you are going global, start here www.mediagroup.com.au
Tags: International Voice Over Talent Artists Online, Voiceover Artists, International Voice Over Services & Voice Over Agency, Male Voice Over Artists
Related Articles
---
Comments