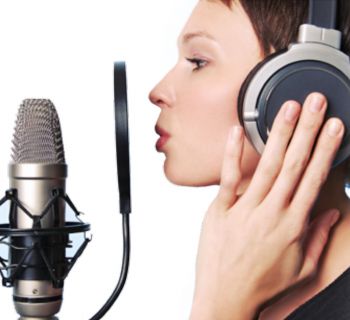 Look good and sound great
You're fooling yourself if you think your company video will impress when the audio track is the second rate.
Read on for the most useful of Tips For Recording High-Quality Video Voice Overs.
These days it's a fairly simple task to get reasonably good pictures and video recordings. All you need is time and a mobile phone.
Some of the latest phones are capable of capturing highly professional-looking shots. You get pixels to burn and lenses to rival the best in Hollywood.
When it comes to compiling the shots most PCs and laptops come with all the software you need to edit those images into a professional-looking video presentation.
However, one vital audio component immediately undermines most productions and banishes them to the amateur bin. It's not the music or lack of it. It's the voice over!
Overcoming the audio deficit
You need a script. This can be created in house or by a specialist writer following a briefing by someone with a knowledge of the company's products and services.
But who can be enlisted to hop front of the microphone and bring that script to life in a recording?
Some plunge headlong into disaster and try doing the voice themselves. Or worse, they hoodwink some poor staffer into having a go.
So of all the Tips For Recording High-Quality Video Voice Overs this is the most critical. You must first commit to hiring a professional voice over artist.
Lift your game
You could be putting together an Explainer Video or a Corporate Sales presentation. Perhaps you need to update your staff induction video.
Whatever the project you will be amazed how a seasoned Voiceover can inject interest and excitement into the dullest subject matter.
At Media Group, the business audio specialist, you'll find a wide choice of experienced voice artists available at very reasonable costs.
You can listen to samples of their work online at the Media Group website. Pick a favourite and send for an online free quote.
When it's time to lay down the voice recording, you can direct the session over the phone or brief one of the Media Group producers and they will handle it for you.
You will also have access to a complete library of Royalty Free music to use in the final mix.
To get pro-quality audio on your next video head to www.mediagroup.com.au
Tags: Voice Over Recording, Voice Over Recorder, Voice Over Recording Software, How To Record Voice Over Youtube Video, Voice Recording Tips, Voice Over Tips, Voice Over Recording Online, Tips For Better Voice-over Recording, 13 More Tips To Help You Record Narration Like The Pros
Related Articles
---
Comments