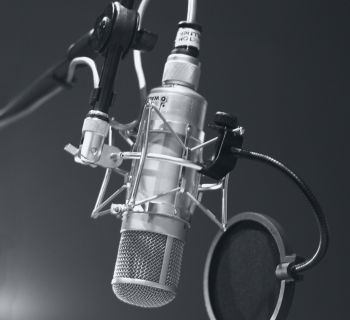 Say "G'day" to fair dinkum voice talent
Why is it that the voices you go looking for never seem to be around when needed? Perhaps it's an invisible quality shared with those ever illusive policemen!
Fortunately when you are seeking an Australian Voice Over you can always rely on Media Group, the business audio specialists.
In addition to a wide range of Aussie voices on their books, Media Group provides male and female professional voice talent from various countries the world over.
Go online to the Media Group website to start auditioning for the voice or voices you need. Whether the sound you're looking for is young, adult or senior you will find what you are seeking.
Audition voice samples online anytime
The Media Group website conveniently puts the selection process at your fingertips. The search is made even easier because the voice talent is categorised by age group and country (language). You will find samples recorded for use on radio, TV, corporate videos and telephone systems so you will quickly be able to narrow your search.
When you have established a short list you can get a free online quote and make sure your choice of voice(s) fits within the budget. To assist with production scheduling, Media Group will also advise you of the talent's availability.
Request a free demo recording to be read by your preferred talent
Sometimes you might think you have found the perfect voice for the job, but there is still that nagging doubt. No worries mate!
Media Group will arrange to have your preferred talent record a free demo by reading an extract from your script. That way you can be totally sure you have made the best choice. The only provision made is that you must be planning to record a script or number of scripts with a minimum length of 60 seconds.
To arrange you free online demo email a copy of your script. When the recorded demo is complete Media Group will send a link for you to go online and review the demo. Easy peezy Japaneezy!
Whether you need the services of an Australian Voice Over or a voice actor from China, Germany, Spain, France, United Kingdom, Japan, the Republic of Korea or New Zealand, you can get the ball rolling here and now.
Simply visit www.mediagroup.com.au and click on Voice Overs. Then refine your search under the headings listed for radio/TV, Gender, Age and Country.
Tags: Top Voice Over Agency, Australian Voice Over Artists & Actors, Authentic Australian Voiceover Artist, Voice Overs Australia
Related Articles
---
Comments