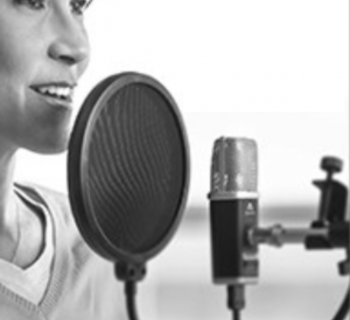 In the right hands a voice can be a powerful tool
The flexibility of the human voice is something at which we can all marvel. The all-time champion in this area would have to be the inimitable Mel Blanc – once christened "the man of 1000 voices".
It's a fair bet the late Mr Blancwould asserts that he possessed many more than a mere 1000 vocal variations in his repertoire. As Voice Over Actors go he reigned supreme.
In the cartoon world, Mel's vocal gymnastics featured as a stuttering Porky Pig, the carrot nibbling Bugs Bunny and the lisp-laden, saliva spraying feline Sylvester. He was the inventor of Woody Woodpecker's penetrating cackle and the bombastic tones of that Casanova of the chicken coop, Cornelius.
The company voice is the business image you present
You need to think carefully when auditioning Voice Over Actors for the company's advertising campaigns or Corporate videos, Internet presentations and telephone messages. Remember it's vital the voice or voices you choose must reflect the public image you desire for the business.
The first thing to avoid is trying to penny-pinch by doing it yourself. Or having cousinJenny record the After Hours Message. That is unless your "cuz" is a professional voice over talent.
Amateur voice artists belong in eisteddfods, but when it comes to the business world you need a pro!
Go online to audition for the right voice talent
If you are looking for a voice over artist start at the Media Group website. There you can listen to hundreds of sample recordings from experienced male and female professional voice actors.
To assist in your search you'll find the voice talent is listed by gender and age. All their sample recordings are categorised under radio/TV, Corporate and Telephone.
When you have shortlisted a voice or voices you can obtain a free quote by clicking on the button at the top of the page labelled "free online quote". Follow the prompts and fill in a few details and you'll receive your free quote by email.
Assuming the quoted price is within your budget you can then confirm your chosen talent's availability. Media Group will also go one step further and furnish you with a free "demo recording". The only provision is you must be planning to record scripts that total a minimum 60 seconds.
Now to get the power of the voice of your choice working for you, simply head to www.mediagroup.com.au
Tags: Voice Over, Freelance Voice Actors, Professional Voice Over Services And Voice Actors, Voice Overs Jobs, Voice Over Examples
Related Articles
---
Comments