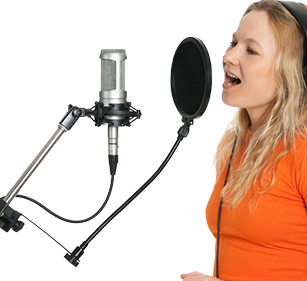 Putting your voice where it can be heard
The proliferation of the communications industry around the world has created boundless opportunities to get involved in Freelance voice work.
If you have no experience, there is a catch 22. You need to have a ''"show reel".
The magnetic reels of tape from the analogue days have been replaced in the digital era by CDs and USB Flash Drives or emailed in MP3 format or WAV files.
The showreel, should contain a few examples of previous recordings you have made. These recordings don't have to be published or broadcast examples, however, they should bear all the hallmarks of having been professionally recorded.
Get it down on tape
If you have the budget, or you can hit Dad up for a few bucks, you should hire a studio to help record and produce your show reel.
The studio will have a high-quality microphone, a sound-treated room and access to some Royalty Free Music tracks and Sound Effects (SFX) that you can use to enhance your production.
The studio engineer will help you edit the tracks so the showreel doesn't turn out to be of epic length.
Show variety and a little ingenuity
Advertising Agency people pretend they are trendsetters, but in fact, they are dedicated followers of fashion. Always on the lookout for a new voice, they will usually be comparing you to what is safe and familiar. So don't be totally boring.
Present some examples of you reading in standard announcer style as well some character voices. Use wording you have plagiarised off existing scripts from ads or movies. Or write your own brilliant stuff. That way if you don't score any voice work you might get a call to write some copy.
See a lot of people. Ask all to buy.
Let people know you are looking for a freelance voice over work. As with any sales campaign you have to get your voice noticed and let producers and studios know how to get in touch.
Plus you have to be proactive. Use social media to spread the word. Get blogging. Contact every sound recording studio in your city and give them a copy of your precious showreel emblazoned with your phone number and email address.
One big name you should have on your list is Media Group, the business audio specialists at www.mediagroup.com.au
Tags: Voice Over Jobs, Voice Talent Jobs Australia, Freelance Voice Work, Australian Voice Over Artists & Actors For Hire Online, How To Become A Freelance Voice Over Talent
Related Articles
---
Comments